TASMAN Whisky - Sherry Cask - Tasmanian Single Malt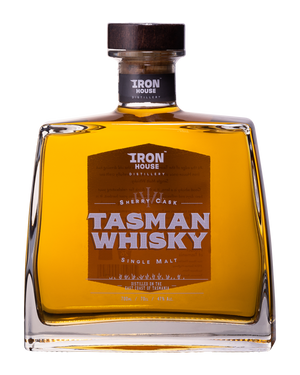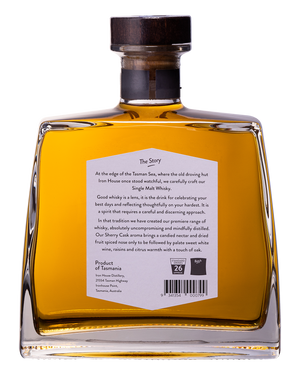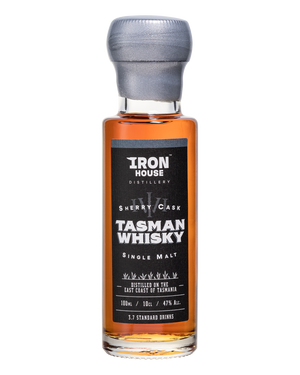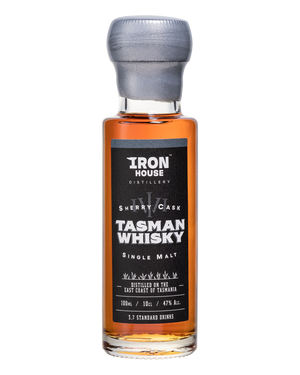 TASMAN WHISKY
- Sherry Cask - Tasmanian Single Malt -
- Single Malt Release - 
- 47% ABV -


Indulge in the unparalleled sophistication of our Tasmanian Single Malt Whisky, a true testament to the artistry of whisky craftsmanship. Meticulously aged for a minimum of 5 years in hand-selected Sherry Barrels, sourced exclusively from the esteemed wine regions of both France and Australia, our whisky possesses a depth of flavor and character that is unmatched.
Prepare to be enchanted by the delicate and subtle nature of our Tasmanian Single Malt Sherry Cask. As you raise the glass to your lips, a tantalizing aroma of sweetened candied nectar envelops your senses, tantalizing your palate and setting the stage for an extraordinary experience. The essence of dried fruit spice dances upon your nose, intricately entwined with a gentle whisper of butter, creating a symphony of enticing scents that beckon you further into the whisky's embrace.
With each sip, the complexity of flavors unfolds on your tongue, offering a journey of unrivaled pleasure. The incredibly smooth palate unveils layers of sweetened white wines, their luscious notes blending seamlessly with a subtle hint of lime, teasing your taste buds with a delightful citrus twist. Raisins provide a subtle depth, their richness evoking a sense of indulgence, while delicate pink candy brings a touch of elegance to the ensemble. All harmoniously balanced, the whisky unveils a gentle warmth that lingers, courtesy of its meticulously aged Sherry Cask maturation, culminating in a symphony of flavor that dances upon your palate.
The secret to our whisky's extraordinary allure lies in the choice of ex Sherry barrels for its maturation. These remarkable casks, steeped in the heritage and legacy of the world's finest wines, bestow upon our whisky a depth and complexity that elevates it to new heights of excellence. The sherry-soaked wood imparts nuanced flavors, intricately weaving the essence of its previous occupants into the whisky's very fabric. The result is a harmonious marriage of fruity sweetness, refined oak undertones, and a velvety smoothness that lingers long after the final sip.
In crafting our Tasmanian Single Malt Sherry Cask, we have created a whisky that encapsulates the pinnacle of elegance and refinement. Every sip reveals a symphony of flavors, each layer intertwining seamlessly with the next, promising a sensory experience that is both captivating and unforgettable. Embark on a journey through time and taste, and allow our whisky to transport you to a realm of unparalleled pleasure, where sophistication and indulgence converge.



Our Story ;

At the edge of the Tasman Sea, where the old drovers hut Iron House once stood watchful, we've been carefully crafting our Single Malt Whisky's over the last 5 years. Now finally ready to be unleashed, disgorged from the darkened corners of the bonding room and hand selected by Iron House Master Distiller, Michael Briggs, you will be treated to a full flavoured experience. 

In an age old tradition we have created our premium range of Whisky, our Spiritus Frumenti, for all to indulge in. TASMAN WHISKY is absolutely uncompromising and complex. Mindfully distilled within the confines of our copper hybrid still, it is the synergy between the purest malts, the pristine waters and the cleanest ocean air of Tasmania's untainted East Coast that balance and mature our spirit perfectly.


Good whisky is naught but a lens. It is the drink for celebrating your best days and reflecting thoughtfully on your hardest. It's a spirit that demands a careful and discerning approach.



It is our story, but it is your Whisky.

Tasman Whisky.

The Spirit of the East.