TASMAN WHISKY - Port Cask - Tasmanian Single Malt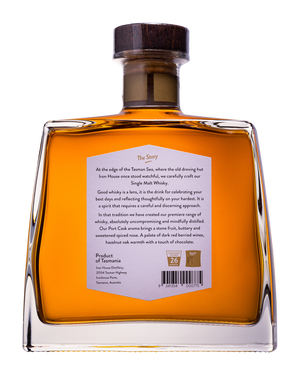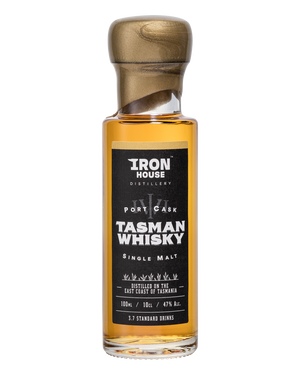 TASMAN WHISKY
- Port Cask - Tasmanian Single Malt -
- Single Malt Release - 
- 47% ABV -
Indulge in the exquisite taste of our Tasmanian single malt whisky, a masterpiece that has been meticulously crafted to perfection. Aged for a minimum of 5 years in handpicked Portuguese sourced Port barrels, and further refined by the renowned Tasmanian Cask Company in the tranquil landscapes of Tasmania's East Coast, our pure Tasmanian Single Malt Port Cask whisky is a testament to the art of whisky making.
As you savor the first pour, you'll be captivated by the mesmerizing reddish-orange ember hue that dances elegantly in your glass, hinting at the depth and richness that awaits your senses. Delight your nose with a symphony of aromas, as the stone fruit notes intertwine seamlessly with the bold essence of port wine, creating a captivating bouquet. The velvety smoothness of buttery accents intertwines with a hint of sweetness and a dash of tantalizing spices, leaving your olfactory senses in a state of pure bliss.
Allow your palate to embark on a journey of flavor as you take your first sip. The lusciousness of red berried wines envelops your taste buds, harmoniously mingling with the dried dark fruit and the subtle zest of orange. Hazelnut oak warmth embraces your palate, adding depth and complexity to the experience, while a delicate touch of sweet dark chocolate and the essence of ruby tobacco create a symphony of indulgence.
As the last drop caresses your tongue, a lingering sensation of brown sugar, reminiscent of warm caramel, intertwines with the essence of Anzac biscuit, evoking a sense of nostalgia and heritage. The finale reveals subtle earthy notes, reminiscent of the untamed Tasmanian wilderness, as if bidding you farewell with a gentle reminder of the whisky's origin.
Our Tasmanian single malt whisky, aged in carefully selected Port barrels, embodies the essence of sophistication, craftsmanship, and unparalleled quality. It is an embodiment of the fusion between Tasmanian excellence and the Portuguese tradition, resulting in a truly remarkable spirit that is sure to tantalize even the most discerning whisky connoisseurs.
Indulge in the refined pleasure of our Tasmanian single malt Port Cask whisky, and allow yourself to be transported to a realm of unparalleled taste and elegance.
Our Story ;



At the edge of the Tasman Sea, where the old drovers hut Iron House once stood watchful, we've been carefully crafting our Single Malt Whisky's over the last 5 years. Unleashed and disgorged from the darkened corners of the our bonding room and hand selected by Iron House Master Distiller, Michael Briggs, you will be treated to a full flavoured experience. 



In an age old tradition we have created our premium range of Whisky, our Spiritus Frumenti, for all to indulge in. TASMAN WHISKY is absolutely uncompromising and complex. Mindfully distilled within the confines of our copper hybrid still, it is the synergy between the purest malts, the pristine waters and the cleanest ocean air of Tasmania's untainted East Coast that balance and mature our spirit perfectly.


Good whisky is naught but a lens. It is the drink for celebrating your best days and reflecting thoughtfully on your hardest. It's a spirit that demands a careful and discerning approach.

It is our story, but it is your Whisky.
Tasman Whisky.

The Spirit of the East.