Strange Omen - Sloe Gin *2023 Harvest Release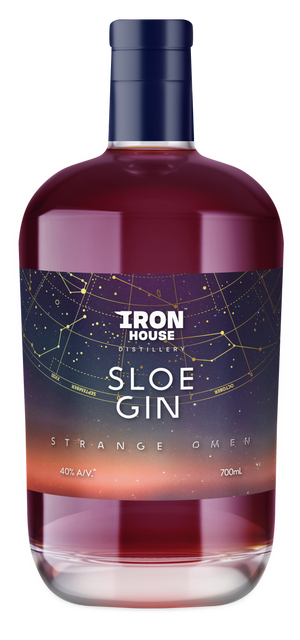 As the enchanting embrace of Autumn's first frost caresses Tasmania's North, a captivating journey begins. Within the hidden corners of wild blackthorn hedgerows, our devoted Ironhouse crew ventures forth, foraging for the lushest sloe berries.
With utmost reverence for nature's bounty, we delicately pluck each precious berry by hand, honoring tradition and preserving their innate allure. These treasures then mingle intimately with our classic Small Batch Gin, surrendering their essence to create a symphony of flavors. But here's the secret: we dance to our own tune, sidestepping the conventional path of sloe gins from yesteryear. Instead, we let the berries work their magic, infusing the spirit with their natural sweetness. No added sugar here, just pure, untamed indulgence. And so, our juniper, pepperberry, and citrus-centric gin intertwine with the sloe's tart sweetness, culminating in a seductive, dark burgundy elixir that boasts a tantalizing array of plum fruit, dark chocolate, dry citrus and exotic spices.
Get ready to be captivated by its irresistible charm—an elixir that effortlessly balances boldness and enchantment, all while maintaining an unassuming nature. With a respectable 40% ABV, this full-strength spirit invites you to succumb to its spellbinding allure. It effortlessly blends with your go-to cocktails, infusing them with a touch of its enigmatic magic. And for those who dare to venture further, take pleasure in its velvety embrace, indulging in its decadent whispers as you savor it neat, over ice, during a cozy winter evening.
Embrace the allure of rarity, surrendering to the temptation that awaits within each bottle. Let this limited-edition elixir ignite the flames of passion and transport you to a world of extraordinary flavors. Join us on this exquisite journey, where romance meets unbridled pleasure.
ABV - 40%
700ml
Standard Drinks - 22

It is against the law to sell or supply alcohol to, or to obtain alcohol on behalf of, a person under the age of 18 years.

All prices are in AUD. © 2017 Beer Cartel. ALL RIGHTS RESERVED | LIQUOR LICENCE: 71208162 | ABN: 12009524172