TASMAN WHISKY - The Maverick - Distiller's Release Muscat Cask - Tasmanian Single Malt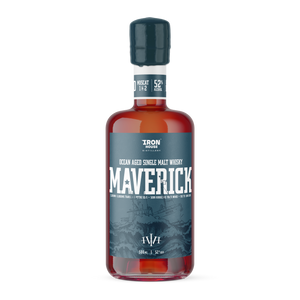 Following the true definition of a Maverick, Ironhouse has taken our barrel ageing process to a radical level by moving our housed 4 year Fortified barrels and finishing them on a Abalone Fishing boat named Maverick for 12 months on the high seas of The Tasman over 3280 nautical miles. 
The constant movement of the ocean churns the spirit with greater interaction with the wood, extreme temperature and barometric ranging creating a hyper ageing effect taking you on a sensory voyage like no other.
Tasting Notes:

Colour: A dark rich mahogany with a polished copper.
Nose: A complex and decadent nose, laden with dark berries, port sweetness, salted caramel and buttery vanilla and oak forward note to finish on.
Palate: The palate is instantly delicious, port wine, brown sugar, figs and molasses create a warming sweetness. White pepper, buttered bread, oak build a solid base for the most unique aspects of the Maverick. 12 months at sea onboard the Maverick has imparted an unmistakable salted dark chocolate, seaweed and dried herb savoury compliment to the sweetness.
Finish: You can enjoy a mid to longer finish with sweet red wine, brown sugar and fired oak at the very end. 
Our Story:


At the edge of the Tasman Sea, where the old drovers hut Iron House once stood watchful, we've been carefully crafting our Single Malt Whisky's over the last 4 years. Unleashed and disgorged from the darkened corners of the our bonding room and hand selected by Iron House Master Distiller, Michael Briggs, you will be treated to a full flavoured experience. 

In an age old tradition we have created our premium range of Whisky, our Spiritus Frumenti, for all to indulge in. TASMAN WHISKY is absolutely uncompromising and complex and 100% Tasmanian. Mindfully distilled within the confines of our copper still, it is the synergy between the purest malts sourced from the North of the state, the pristine waters of and the cleanest ocean air of Tasmania's untainted East Coast that balance and mature our spirit perfectly.

Good whisky is naught but a lens. It is the drink for celebrating your best days and reflecting thoughtfully on your hardest. It's a spirit that demands a careful and discerning approach.

It is our story, but it is your Whisky.
Tasman Whisky.

The Spirit of the East.