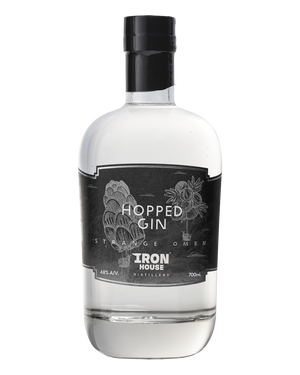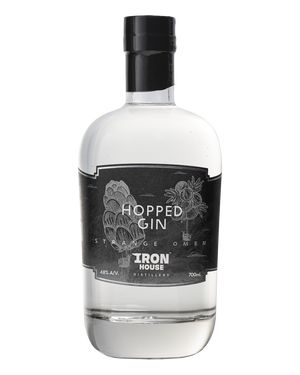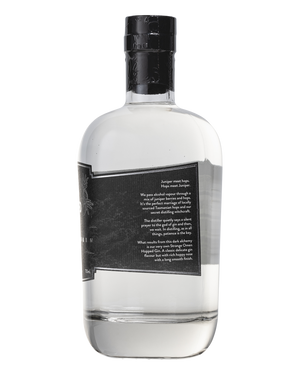 Strange Omen
- Hopped Gin -
UNIQUE AND UNUSUAL.
JUNIPER, MEET HOPS. HOPS, MEET JUNIPER.
A MIX OF THE TRADITIONAL AND THE EXTRAORDINARY. 
CREATED USING OUR BASE SPIRIT WHICH IS GROWN, HARVESTED AND THEN DISTILLED AT OUR EAST COAST DISTILLERY, LOCATED FACING THE TASMAN SEA ON THE PRISTINE ISLAND STATE OF TASMANIA, THIS ARTISAN STYLE HOPPED GIN IS A COMBINATION OF THE 9 BOTANICALS USED IN OUR SMALL BATCH GIN WHICH INCLUDE LOCALLY SOURCED TASMANIAN PEPPERBERRIES AND LEMON MYRTLE, AND THEN, WE ADD A LITTLE BIT OF OUR LOVE FOR BREWING CRAFT BEER TO THE MIX, HOPS.
WE'VE EXPERIMENTED WITH THIS, ATTEMPTING TO PERFECT THE PROCESS. PASSING ALCOHOL VAPOUR THROUGH A MIXTURE OF JUNIPER AND HOP, STEEPING THE HOPS IN GIN, BOTH COMING UP A LITTLE SHORT. TO CREATE THE CONSUMMATE DARK FUSION OF FLAVOURS WE FOUND OUR BEST RESULT using a LIQUEFIED HOP EXTRACT. THE OILS THIS NATURAL PRODUCT CREATES IS QUITE UNIQUE AND REMINISCENT OF GRASSY YET SUBTLE COCKTAILS. THEN THE master DISTILLER INVOKES A SILENT PRAYER TO THE GODS OF GIN, THEN WE WAIT, AS THE SECRET DISTILLING ALCHEMY BRINGS THE TASTE TO LIFE.
IN DISTILLING, AS IN ALL THINGS, PATIENCE IS THE KEY.
WHAT RESULTS FROM THIS DARK WITCHCRAFT IS OUR VERY OWN STRANGE OMEN HOPPED GIN, OUR CLASSIC SMALL BATCH FLAVOUR WITH A DELICATE BUT RICH HOPPY NOSE AND A LONG SMOOTH FINISH.
A PERFECT MERGER OF MYTHOLOGY AND MIXOLOGY.
ABV - 48%
RECOMMENDED WITH;
A TWIST OF LIME OR A WEDGE OF ORANGE

A BIG HOPPY RED ALE, AS A BOILERMAKER

A TRADITIONAL AMERICAN PALE ALE, AS A CHASE

It is against the law to sell or supply alcohol to, or to obtain alcohol on behalf of, a person under the age of 18 years.

All prices are in AUD. © 2017 Beer Cartel. ALL RIGHTS RESERVED | LIQUOR LICENCE: 71208162 | ABN: 12009524172