Ironhouse Mixed Carton Pack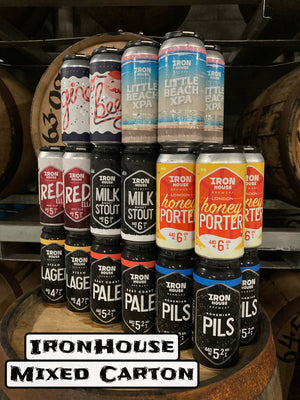 Iron House Brewery Presents........
IRONHOUSE MIXED CARTON
- 16 X 440ml Cans Carton -
We here at Ironhouse, we love to indulge...... in awesomeness. Hiking, fishing, swimming, MTB, beering, travel, camping, more beering, climbing, dancing, shenanigans and just having a time whilst being this side of the grave.
There be a hell of a lot of variety on this little mud ball drifting through the ether and variety, after all, is the spice of life. Craft beer, well, we love the different varieties available. Its fair to say it spices things up a bit.
Hence, we've throw together a mixed carton of all our different brew varieties, a super MAXED OUT wicked as a wicked thing celebration of all good things Craft brew we do here at the HOUSE OF IRON !!!

Why ? Why the bloody hell not ! Let the Spice of life bring something a little different.
Presenting the best IRONHOUSE has to offer.....

2 x MILK STOUT - 6% ABV
2 x EAST COAST PALE ALE - 5.2% ABV
2 x GINGER BEER - 6% ABV
2 x RED ELLA - 5% ABV
2 x HONEY PORTER - 6% ABV
2 x PILSENER - 5.2% ABV
2 x LAGER - 4.7% ABV
2 x XPA - 4.4% ABV
Drink Local.




Support Independent.
 It is against the law to sell or supply alcohol to, or to obtain alcohol on behalf of, a person under the age of 18 years.
All prices are in

 

AUD

.

 

© 2017 Iron House Brewery. ALL RIGHTS RESERVED | LIQUOR LICENCE: 352 795 | ABN: 12009524172