Iron House Brewery Sweet Milk Stout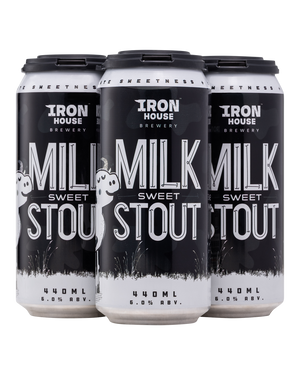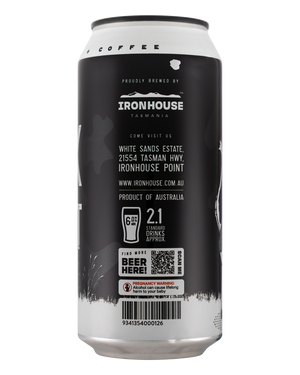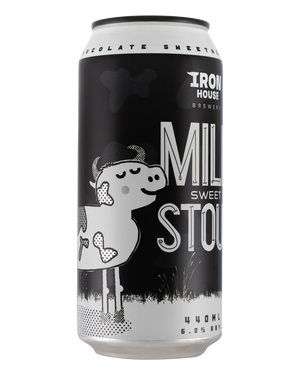 IRON HOUSE BREWERY
- Sweet Milk Stout -

Step into the realm of indulgence with our Sweet Milk Stout - a beer that holds a touch of sweetness at its darkened heart. Originally created as a limited winter release in 2016, this brew quickly captured the hearts of beer enthusiasts, prompting us to keep it on tap year-round.
Imagine cozy winter nights by the fire, where the crackling flames illuminate the room. It's the perfect setting to savor the richness of our Sweet Milk Stout. With bold chocolate sweetness, subtle coffee notes, and a hint of roasted cream caramels, each sip is a delight. The added lactose brings a moreish sweetness akin to vanilla pods, leaving you wanting more.
But don't let the winter label fool you - our Sweet Milk Stout is a beer for all seasons. Whether it's a crisp autumn evening or a summer barbecue, it's a brew that delivers on taste and enjoyment, making it a favorite choice year-round.
With an ABV of 6% and a mild bitterness of 12 IBU, our Sweet Milk Stout offers a harmonious blend of indulgence and drinkability. It strikes the perfect balance, enticing you with its flavors without overwhelming your palate.
Join us in savoring the legacy of milk stouts, a classic beer style known for its creamy texture and enticing sweetness. Our Sweet Milk Stout pays homage to this tradition while adding its own modern twist.
Indulge in the flavors that have made our Sweet Milk Stout our most popular brew. Whether it's a cozy night by the fire or any occasion that calls for exceptional beer, our Sweet Milk Stout is the answer. Cheers to unforgettable moments and the pleasure of sharing exceptional brews with friends. ABV 6% | IBU 12.
Welcome the darkness and discover the magic within our Sweet Milk Stout, a beer that transcends seasons.

It is against the law to sell or supply alcohol to, or to obtain alcohol on behalf of, a person under the age of 18 years.
All prices are in

AUD

. © 2017 Iron House Brewery. ALL RIGHTS RESERVED | LIQUOR LICENCE: 352 795 | ABN: 12009524172